Two upcoming events to tell you about.
GARAGE SALE TO BENEFIT SAINTS RESCUE
This Saturday - tomorrow in fact, May 26 SAINTS' volunteer, Deb is having a garage sale to benefit senior animals. It will be 8:30 am - 2:00 at 35447 McKee Road. It will be a fantastic day weather wise.
SAINTS 6th ANNUAL OPEN HOUSE
The open house is less than a month away. It will be Saturday and Sunday June 23 - 24.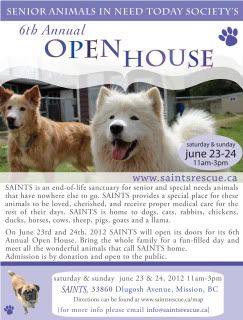 Here us a link to downloadable pdf poster with all of the detail: http://www.saintsrescue.ca/news/2012/open.pdf
And I would like to give thanks to those who participated and supported SAINTS in two recent events.
THE PLANT SALE
Thanks to all that gave great forever homes to the plants and baskets and especially to all who helped with organizing the events and unloading the plants. The sale raised $10,565.00 to benefit three fantastic local rescues: SAINTS, Elizabeth's Wildlife Rescue and the Human Society of the Fraser Valley. A special thanks to the guardian angels.
RBC VOLUNTEER DAY AND GRANT
We would also give like to give a big thank you to Royal Bank of Canada and particularly the Mission branch who came out to volunteer for a day. They were put to manual labor washing windows and fences and cement walkways to help us great ready for the open house. They were a huge help. On top of generously donating their time, they were also able to apply for an secure two grants from RBC totaling $2000.00. This money will help us to pay down some of our outstanding vet bills.
Thanks to everyont who supports us year round, volunteers their time, and spreads awarness that senior animals have value and life left to live. We hope to see you at the open house.