the vet found a very large tumor on his kidney. this explained his sudden drop in kidney function a couple of weeks ago and why he hasn't really bounced back with fluids and antibiotics. the tumor grew very quickly, it must have been an aggressive one.
the fruitloop trio came in as half grown feral kittens 10 years ago...it took a long time to tame them. today as he died, mango curled into my chest and laid his chin across my arm. he was purring. i am so sad that he won't be popping out of cupboards any more, or sitting in the sink to have a fresh drink. i will miss him helping me feed everyone at night and always stealing his very own special treat.
just like his brothers, mango was always a very sweet cat...i have so many memories as i watched them grow. i thought they would all be here together for many more years...saints is empty of a much loved friend tonight.
rest in peace sweet boy.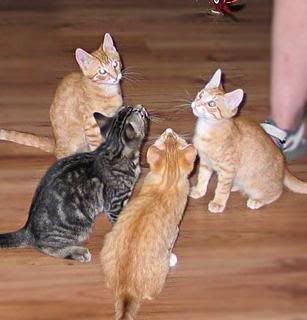 (the fruitloops and their friend hickory as babies)