Rescue Journal
i am so sorry to report that wilma was euthanized late today.
Carol · Dec. 18, 2012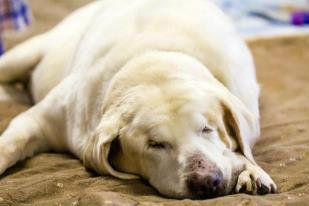 i am having a hard time wrapping my head around this.
it is smokey who is reaching the end of his road..smokey who needed help to stay up on his feet to get in to the clinic...it was smokey i thought i might be told had reached his last day.
but it was wilma with her 24 hour upset stomach and diarrhea who i thought would just need some meds to get her right again who had something bigger hiding inside. we found a nasty tumor during her exam. xrays then found a pleural effusion (fluid surrounding her lungs)...the cancer had already spread. the vet said we could try to treat the GI upset but in a couple of days she going to feel like she was drowning and be unable to breathe. by late afternoon she was sound asleep and snoring with a good dose of torb in her..she did not even wake up as she passed away. i am glad that we found this strictly by accident before she had begun to suffer but i am so sorry to have lost her without really saying good bye.
rest in peace wilma. you were every single moment, filled with a beautiful grace.
i want to thank all saints staff and volunteers..esp. her primary staff and volunteer caregivers..laura, brianne, shawn, jenn, derek, ashley, christine, michelle and esp. her mon-fri caregiver dionne for the love and wonderful care they have given to her. i will forever see wilma comfortably stretched out on the couch.... clean, content and comfortable..her every need had been met. thank you guys for a job well done..wilma was well cared for and loved while she was here.
(i did try to call zoe but the number i have is no longer in service..if anyone has a more recent contact number for her..please let her know. thx.)