Photo of O'Grady and Lincoln - best buds.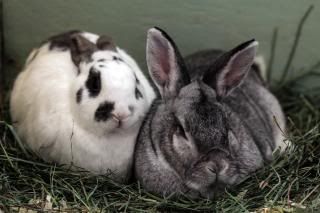 O'Grady is the grey rabbit (RIP) shown here with his best bud Lincoln. O'Grady came to saints at the end of 2008 with two other rabbit, Gracie and Bella, that had been backyard bred rabbits for meat. O'Grady was devestated after losing his close friends but found love again with Lincoln. O'Grady taught us the love of a rabbit. Read his story here:
http://www.saintsrescue.ca/wordpress/?p=2694
Rest in peace O'Grady and be with your friends now. You were a great rabbit.